I'd never been to a wine fair in The Netherlands before, and this one was completely dedicated to Champagne. The event was held in the prestigious Amstel hotel in Amsterdam. At the lobby, wine writer Gert Crum was there to sell and sign his fabulous new champagne book "Le réveil des terroirs". There were two tastings on the same day: One for the professionals in the afternoon, and another later in the evening for the non-professional visitors.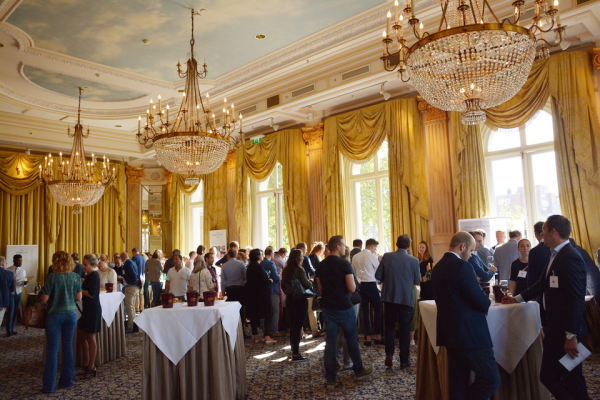 Most of the distributors and resellers really knew what they were talking about even if I asked some tricky questions. I was charmed by the hospitality and the high quality. Many Grand Marques were represented, and also many top vignerons of the new generation of winegrowers. I brought my own glassware but they provided excellent wine glasses.
I visited Champagne Doyard first. Sadly, the passionate winemaker Charles Doyard died recently of a sudden heart attack. His soul lives on in the wines. Clos de l'Abbaye 2011 is so stunning already with tropical Vertus Chardonnay, light woody spices and very dynamic chalky minerality. Still young of course but definitely worth waiting for. Blanc de Blancs 2009 marks the vintage with a more poised character. What really stood out was the Oeil de Perdrix rosé 2011: slightly herbaceous and showing lovely cherry, cured ham, rose essence and citrus with complex minerality and spices. I hope to retaste this soon.
Laherte & Frères. I've really started, with good reason, to appreciate this house since researching my Dossier Meunier. The 2012 Rosé de Saignée "Les Beaudiers" performed best among the rosés with a whopping rating of 93 with 94 potential. I was thrilled to taste the Meunier "Les Vignes d'Autrefois" 2011 at this salon. This shows again that 2011 is a grande année for Meunier. Lovely yuzu, pear, spices, a hint of vanilla and complex smoky minerality on the lingering finish.
Champagne Frèrejean Frères is a brand new champagne house established in 2005 owned by Taittinger. All wines are made with Premier Cru grapes. Although it is already widely distributed, I strangely enough had not yet heard of it. The prestige Chardonnay "Cuveé des Hussards" vintage 2007 is very impressive showing smoked lemon, pine wood, turmeric, butterscotch and a complex minerality with dried herbs and toastiness in the style of – I dare to say – Comtes.
Moutardier was on my "must taste list" because I wanted to include it in my Dossier Meunier. I was lucky that they had the Pure Meunier. It was completely different than what I expected. Very rich, with fat plum fruit (like mirabelles) and greengage, apricot and candied pear altogether with a rustic autolytic character with a hint of veal stock, hay and a striking minerality. Very nice. The Vintage 2008 (made of Meunier and Chardonnay) is also very promising.



My friend Jacqueline from Dis Donc has quite an interesting selection of champagnes. She sells Dhondt-Grellet, the biodynamic Vincent Couche, Hubert Paulet and Louis Casters. Casters is very popular in Belgium because their family roots are Belgian. I wasn't fond of it – at least that is what I thought… Jacqueline convinced me to have a taste. My opinion was changed immediately after I tasted the cuvée JL. Mature, deep autumnal aromas of morels mushrooms, tobacco, tarte tatin with calvados, foie gras, game stock and old Meursault with toffee and hazelnut oil. This is clearly Chardonnay dominated with old apple, tropical fruit and lovely mocha tones. The finish is surprisingly fresh with mandarine, Boskoop apple, persimmon and a hint of minerality. This is blend of 2000, 2001 and 2002 aged sur liège with agraphe but it tastes much older. Blind I would have said a vintage 1989 recently disgorged. I'm in love!
Next in line was Bernard Remy. I of course had to clean my glass because the overpowering aroma of dark yeasts, tobacco and calvados was still present from my previous wine. I ate some bread to reset my palate. The Blanc de Blancs was very typical with grapefruit, apple and minerality. The cuvée Grand Cru is again a Blanc de Blancs but made with Chardonnay from Le Mesnil sur Oger. Very elegant with linden and apple blossoms, grapefruit, durondeau pear, candied angelica and a complex minerality. Prestige is an absolute hidden gem. It has 90% reserve wines. The result is a complex wine with depth and structure. Honeysuckle, light acacia honey tones, spring flowers, bakery yeast, brioche, nuts and sappy citrus fruits and a hint of white truffle. Can't wait to retaste this.
Louis Roederer by Philippe Starck Brut Nature 2009 is a fabulous wine poised with kumquat, tangelo, a smoky dark Pinot Noir fruit and a broad spectrum of minerality. Lovely delicate honey tones on the palate and a long finish. Cristal 2009 is still a baby showing crushed rocks, chalk stone, Granny Smith apple, dried parsley and a little dried fruit and a hint of nuts. It is as disappointing as the 2002 when launched primeur… but tasting the 2002 now is pure heaven! Chef de Caves Lécaillon knows what he is doing, of course but I can't agree on launching premature wines. Cristal is expensive so why can't they age longer in Roederer's cellar? Perhaps some of their customers prefer the wine in its more youthful stage… again, they know what they're doing! Dom Pérignon 2009 A ripe nose with candied lemon and lemon curd, cherry blossom, vanilla, hazelnut and a haze Dom smoke. Still young of course but promising! I certainly will ask to retaste this when I do a vertical in November. Krug Grande Cuvée edition 164. Base 2008 going back to 1990. This is the third time that I tasted it and still I am not convinced. The nose shows cinnamon, dried cherry, cumin, kinine, yellow grapefruit, apple, bitter almond, pumpernickel rye bread and minerality. The wood tones are nervous and unbalanced. On the palate you get quince cheese, yellow grapefruit a hint of bitter coffee, again the kinine and saffron. The acidity is not yet harmonized with sharp lemon and rhubarb. They launched it too soon to my taste which is actually against the Krug heritage philosophy. The edition 163 (base 2007) is drinking perfect already.
I met a very sympathetic fellow, Bas, who happens to be wine writer for Gall & Gall. We tasted some wines together and exchanged thoughts. Veuve Clicquot La Grande Dame 2006 keeps improving. I was already impressed when I tasted it in Paris 2 years ago. The 2/3 Pinot Noir is the star of the blend with bramble berry, juicy doyenné pear, rosehip, marzipan, roasted hazelnuts, almond paste, hawthorn, dried fruits and toast. Typical Grande Dame yeasts on the palate with fantastic patisserie, candied apricot and a great finish with tangerine (dream) and toast. Veuve's newest wine "Extra Brut Extra Old" was a very pleasant discovery. Very atypical Veuve. Bas agreed on that. The nose is structured and layered with lots of fruity complexity with candied apple and pear a sea breeze with almost oyster juice, toast and a whiff of pruneau liqueur. The finish just goes on forever. This shows the true talent of the winemaker Dominique Demarville.



I wasn't the only Belgian at the fair. I stumbled into the flamboyant sommelier and wine freak Vicky Corbeels who is preparing for the final of the Ambassadeurs Champagne competition.
Even Barrat-Masson is represented! Margannes was very straight-forward with candied kumquat and lemon zest and a soft minerality. Grain d'Argile impressed me the most with a delicious nuttiness, rich and complex with lots of Ceylon gooseberry, dried apricot and dried forest fruits with mineral accents. Laurent Bénard energetic almost electrifying wine Vibrato (I think it was 2010) has fabulous layers of Nashi pear, lime, white currant, a hint of umeboshi and salinity. I definitely have to taste more of Bénard!
I arrived at the table of Clara's Champagne, the Champagne goddess. It was very crowded at her table. She had many wines that I hadn't tasted before. Bauchet Signature expresses the very recognizable Chardonnay of Grauves with dill, dried thyme and a dark minerality together with layers of juicy pear, kumquat and grapefruit and Pinot Noir fruit (I thought from Trépail but it was Bisseuil). Very long finish with pepper, raw almonds and citrus acidity. Grongnet Blanc de Noirs is a bold wine with earthy tones, toasted macadamia and blackberry with a lovely dynamic finish. Janisson Baradon Grande Réserve is the perfect house Champagne creamy mouthfeel with lovely yeasty and smoky tones, brioche, toast, candied plums, pear, caramel and a toasty finish. The cuvée 7C is made of all champenois grapes: Pinot Noir, Chardonnay, Pinot Meunier, Arbanne, Petit Meslier, Fromenteau (Pinot Gris) and Blanc Vrai (Pinot Blanc). Very young on the nose with star fruit, physalis and citrus. It was tight and quite unidimensional on the palate not showing any tropical fruit character. This has been released way too young. Gosset-Brabant is a domain you will find just across Bollinger. The wines show an intense expression of the terroir of Aÿ. Réserve Grand Cru Aÿ has fantastic blueberry, rosehip, dried plums, a hint of iodine and mint chocolate with Bolly toast. It tasted better than ever but maybe I was a but influenced by the frivolous and gorgeous Clara. Tip: try to search for the prestige cuvée "Gabriël 1998", a true Aÿ Pinot bomb.
The most impressive table was yet to come. There they had the lovely wines of Savart and Chartogne-Taillet Les Barres Meunier but also Raphaël Bérèche Côte 2006. Rive Gauche Reflet d'Antan blew me away with a fantastic aroma of sourdough baguettes, tommes de Savoie cheese, dried berries, crystal-clear citrus, wax and so much more. The palate bursts with dynamics and it stays focused. I wish I had more time to analyze because I enjoyed this wine tremendously. The reseller actually prefers this wine over Selosse Substance because they feel it is more pure and linear in style. Vouette & Sorbée Fidèle – fabulous like always… Saignée de Sorbée was like a sparkling Pinot Fin from Jean Guillot with roses, goji berry, pomegranate, rustic yeasts, pink peppercorn and hops. Lovely dynamic wine, very dry but with a lot of depth. And then suddenly the reseller reached for a bottle hidden under the table: Textures, a true masterpiece- (I flick away a tear).
What a pleasant surprise to taste one of my favorite champagnes: R.H. Coutier from Ambonnay. The base NV is rich with lovely patisserie tones, forest fruit, candied apricot and juicy nectarine, smoky and toasty. Pierre Paillard Blanc de Noirs "Les Maillerettes" 2012. I was so impressed that I forget to write tasting notes and just wrote "sublime"! The wines of Robert Moncuit just get better every time I taste them. It is the purest expression of the exceptional Chardonnay from Mesnil sur Oger. The Coteaux Champenois 2014 still white wine gave me instant goosebumps. It was like a complex Pernand-Vergelesses very fruit forward but with the typical Mesnil austerity, Burgundian wood spices and smoke and a huge finish with a trail of walnuts and chalk.
Veuve Fourny is one of the first champagne domains that I visited back in 2009. It's always a pleasure to taste their wines. I'm particularly fond of the cuvée "R". It is a perfect champagne d'aperitif because it gives you appetite. The nose shows a delicate fruitiness with apple, Durondeau pear, dried berries, yellow cherry and minerality. On the palate this is dry and savorous. Lovely long mineral finish. I have very positive experiences with aged cuvée "R" which gives lovely honeyed, nutty and tobacco notes.
Time was going fast, too fast as it was already dinner time. I hurried to the Pol Roger stand. There were two jolly, clearly tipsy men laughing "this is the best table but unfortunately we almost drunk everything!". The Winston Churchill 2002 was already finished – shit! – but they still had some Vintage 2004 left. What a fantastic wine! Forest floor, baked apple, meyer lemon, mirabelle plum, incense, toasted brioche, beurre noisette and gunpowder. Superb maturity, deep and vinous with a huge finish.



Time for the non-pro tasting. Luckily I managed to sneak into the next tasting… 
De Venoge has launched a new version of the legendary Vins des Princes. At first I was a bit disappointed because the non-vintage wines didn't have the mature and autumnal character I was hoping for but fortunately the cuvée Louis XV vintage 2006 delivered some pleasure but needs significant more time in the cellar. I'm looking forward to taste the Louis XV 2006 rosé.
Taittinger La Folie de la Marquetterie – according to the reseller it was base 2013 – did not impress. This wine was clearly too young, bitter and unbalanced. What a difference compared with the lovely base 2005 with it's Burgundian deep toffee, buttercream, forest fruits and lovely autolytic notes. Comtes de Champagne rosé 2006 is a sexy, seductive gourmandise with lots of raspberry, creamy forest strawberries, dried quince, vanilla, a touch of Pommard cherry, Comtes toast and a delicate touch of smoke and cured ham. Very elegant but with a lot of depth to accompany a fine dish, even grilled lamb. The Comtes de Champagne 2006 Blanc de Blancs is a breathtaking wine especially when opened a long time in advance or – even better – decanted. It is smoky, has lovely lemon curd, bees wax, apricot, juicy pear, crushed rocks, sea breeze, Chinese ginger syrup, yellow raisins, vanilla and bread crust. Lovely rose grapefruit, kumquat, lemon and a hint of cold butter and crunchy apples on the palate. The finish has the typical Comtes smoke and toast. Very different than the more advanced 2005. A must-have for your cellar.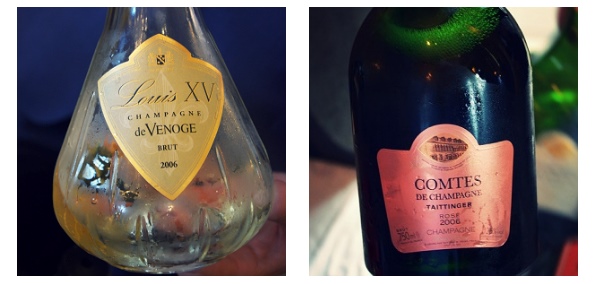 The tasting came to an end. Short of time to taste all wines and I did miss some top champagnes like Egly-Ouriet (I didn't find them), Eric Rodez, Léclapart,… Jacqueline has a surprise for me and opened a bottle of Hubert Paulet Risléus 2002 but I couldn't resist revisiting the lovely Casters JL. It was the perfect ending of a marvelous tasting… There was a great Yamaha grand piano – I believe that it was a hand made S6 – that sounded great with the perfect acoustics of the hall.
I played an impressionistic and Rachmaninovesque piano improvisation that epitomizes the mouth tickling effervescence with fast chromatism. Deep resonating chords represent maturity and the complex counterpoint the minerality. Wine writer Gert Crum had a special request: Beethoven's Kreutzer. Coincidence is that I recently read the score and improvised on the theme. Gert was impressed and I quote "this is how the Salon 2006 will taste". We were already late for our dinner appointment at Blauw – a fabulous Indonesian restaurant.
Tekst en foto's: Michiel Sebastiaan Demarey
Dit artikel komt van de website Champagnist en is gemaakt n.a.v. het PERSWIJN evenement Le Tour de Champagne.
Zet 3 september 2018 alvast in uw agenda! Dan vindt onze volgende PERSWIJN Le Tour de Champagne proeverij plaats.
Tags :
amsterdam
calvados
champagne
chardonnay
le tour
pinot blanc
pinot gris
pinot noir
proeverij
restaurant
rosé wijn